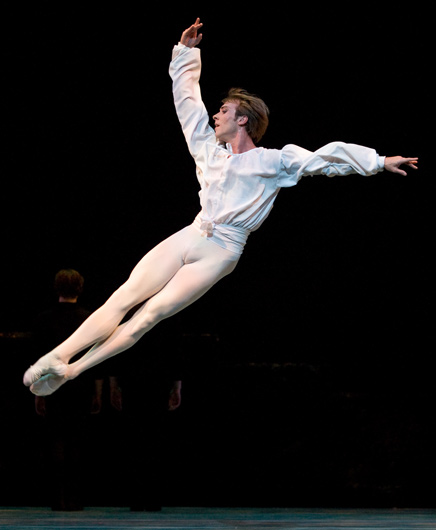 Yevgeni Anfinogenov, Russian principal dancer, was born in Moscow, Russia. He graduated from the prestigious Perm State Ballet Academy (Russia) and joined the Russian Chamber Ballet Theater of Moscow. He was a principal dancer with Metropolitan Classical Ballet (USA), first soloist with The Moscow City Ballet, and Russian National Ballet Theater.
His repertoire includes principal roles – such as Albrecht in Giselle, Prince Siegfried in Swan Lake, Prince in Nutcracker, Bacchus in Walpurgis Night, Romeo in Romeo in Juliet, Principal in Paquita, Principal in Four Temperaments and Concerto Barocco, Escamillo in Carmen and many others – in greatest classical ballets choreographed by Petipa, Fokin, Balanchine, Grigorovich, Lavrovsky, Alonso, Mejia, Toussaint, and Vasiliev. He has performed in many gala presentations and toured extensively throughout the world – Japan, Italy, Spain, United Kingdom, China, and Canada.
As a very handsome male dancer with the perfect ballet look and impeccable ballet training he is always a pleasure to watch. He was awarded a Youth America Grand Prix Diploma as a perfect partner.
Yevgeni is married to a Russian prima ballerina Olga Pavlova and performs with her. Together they create unforgettable characters on stage. As one critic said about them: "…The highlight of the evening was watching Olga Pavlova dance with her partner and husband Yevgeni Anfinogenov." Now Yevgeni and Olga perform as guest principal couple around the world.